Devotional
It's Not About the Fish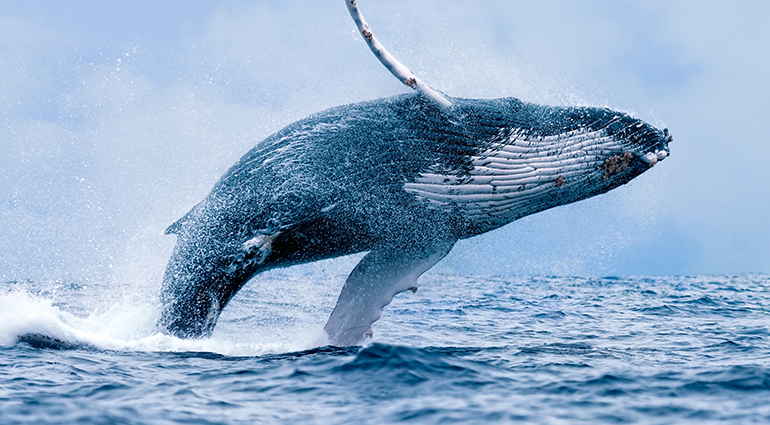 Sighted numerous times off the coast of Australia's South Queensland, Migaloo is the first albino humpback whale ever documented. The splendid creature, estimated at over forty feet long, is so rare that Australia passed a law specifically to protect him.
The Bible tells us about a "huge fish" so rare that God had provided it especially to swallow a runaway prophet (Jonah 1:17). Most know the story. The Lord told Jonah to take a message of judgment to Nineveh. But Jonah wanted nothing to do with the Ninevites, who had a reputation for cruelty to just about everyone—including the Hebrews. So he fled. Things went badly. From inside the fish, Jonah repented. Eventually he preached to the Ninevites, and they repented too (3:5–10).
Great story, right? Except it doesn't end there. While Nineveh repented, Jonah pouted. "Isn't this what I said, Lord?" he prayed. "I knew that you are a gracious and compassionate God, slow to anger and abounding in love" (4:2). Having been rescued from certain death, Jonah's sinful anger grew until even as his prayer became suicidal (v. 3).
The story of Jonah isn't about the fish. It's about our human nature and the nature of the God who pursues us. "The Lord is patient with you," wrote the apostle Peter, "not wanting anyone to perish, but everyone to come to repentance" (2 Peter 3:9). God offers His love to brutal Ninevites, pouting prophets, and you and me.
---
---
Related Posts
Send It in a Letter

Her name is Ruby. She is four years old. Like most children that age, Ruby loved to run, sing, dance, and play. But she started complaining about pain in her knees. Ruby's parents took…

Shelve Them and Move On

I'm reminded of some wise advice a radio broadcaster friend once gave me. Early on in his career, as my friend struggled to know how to deal with both criticism and praise, he felt…

Praying and Growing

When my friend David's wife developed Alzheimer's disease, the changes it brought to his life made him bitter. He needed to retire early to care for her; and as the disease progressed…
Upcoming Events
February 22 @ 7:00 pm

-

9:00 pm

February 23 @ 10:00 am

-

12:00 pm

March 9 @ 6:00 pm

-

9:00 pm
From our Facebook Feed